Deliberate Practice:
Write Down Your Goals.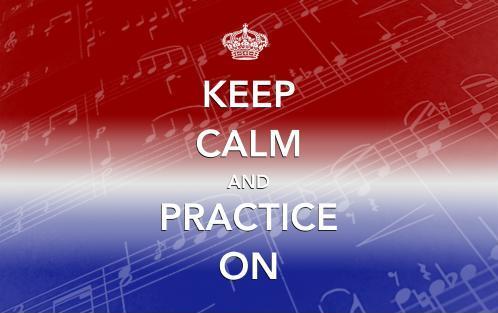 ---
DELIBERATE PRACTICE

:


The Power of Taking Notes




Here's a great piece of advice on how to optimize deliberate practice, from Paul Kleff, virtuoso guitarist, and others - It is this: write down your musical goal[s].

This is more effective than merely "thinking about" them or "visualizing" them.  Why?

The act of writing it down is the first step to actually accomplishing the goal, it gives you a 'solid', 'real' thing to aim for and to organize your efforts around 'out there'.  If it remains in your head, the odds are that it will just continue to stay in your head.

Another benefit of writing it down is that it can "automatically" produce ideas about HOW to reach the goal.  You look at what you have written, and the 'bridging' ideas start coming, in other words what you should do to "get from A to B."  Then you write THOSE ideas down, of course.

So, I took Paul's advice and this is what I came up with as an example [which I'm also following myself, by the way]

-----------------------------


1] GOAL: TO BE ABLE TO PLAY WHAT I HEAR IN MY HEAD, AT WILL. [Actually, I don't know of any musician who doesn't have this as a goal.]

2] HOW TO ACCOMPLISH THIS GOAL


00] Break this into two broad categories: "BUILD MY EARS" [ear training/sight-singing/musical dictation] and "BUILD MY HANDS" [scales/arpeggios/runs/all sorts of exercises, technique studies and drills]. These will naturally overlap in various circumstances.

0] Research and adopt most effective practice strategies - [For our purposes here, we've established Deliberate Practice as the foremost overall strategy .]

    a] Find and implement exercises that impart the knowledge and skill to instantly know where all the notes are on your instrument.  [usually scales, arpeggios, etc., but also studies in 'riffs' and 'licks' if appropriate for your genre. There is also lots of training software which facilitates this.]

    b] [This is my personal tactic] If you can at all, SING the notes of the exercises as you play them - this reinforces pitch recognition and muscle memory simultaneously, making the results more swift and certain.

    c] Investigate and test out methods of 'body work' for musicians [yoga, Alexander Technique, Feldenkrais [I'm curious about this], and The Cowling System [this is a great warmup routine] so as to maximize facility and also avoid stress and injury.

    d] [as appropriate for your genre] Learn songs: This will provide 'structural' knowledge of music which will further your ability to execute your own ideas. Also, whether you are intending to become a songwriter or not - write songs.

  I found that that gives one 'hands-on' knowledge on theory and construction of dynamics of music.  And writing songs has the added benefit of habituating you to getting music OUT of your head, not merely "in".

-----------------------------

See how this can work?  Frankly, making a compact list like the above - and getting each step done - is a really cool way to manifest your goals!  Try this and let me know how you do!

GOOD LUCK!

[More to come on the methodology of goals, setting them and reaching them!]

---
More Deliberate Practice resources:
"DP" PART THREE - "IT'S NOT HOW MUCH, IT'S HOW"
"DP" PART FOUR - "DP" & SELF-TRAINING

Also, to help you get started on this right away, here are more great deliberate practice resources for you to investigate:
---