DELIBERATE PRACTICE & SELF-TRAINING
DELIBERATE PRACTICE - WITHOUT A HUMAN COACH:
After having described the value of a committed coach, where does the the idea of "going it alone" with just books, videos and software fit in to this?
Well, it just may be the only option for many aspiring musicians.  And there are certain points to recommend this approach:

Firstly, there is the benefit of inexpensiveness: the right materials can provide hundreds or thousands of hours of practice and training for a fraction of the cost of a teacher or coach.

This is made possible by the power of the computer: Well-designed software can tirelessly and with total patience, coach one through all the rote 'grunt work' - memorization, drills, rudiments, etc. for indefinite periods.  A human would presumably wear out long before the 'coach' does.  Of course this coach would be absolutely "unsentimental" either the playing is correct, or it isn't.  All the software in this field will rate your progress and performance, and show you what needs improvement, and when it's correct.

Another benefit is flexibility of schedule; One can arrange to do his practice at 4 am if one needs to - [hopefully with headphones! - if one's instrument is electronic, or electric.]

Another benefit - though this is dependent on the software to a certain degree - and that's having the determination over how fast one progresses.. This can be controlled by the self-trainer.  One doesn't move forward until one is totally comfortable with and has mastered the particular material or lesson in question.  Which goes back to the point of NOT PRACTICING MISTAKES, as noted on previous pages.

But this last, and all the above factors actually, are subservient to the one factor which can ensure success, or bring about failure in the effort to self train - and that factor is completely independent from and uninfluenced by all those listed above.

And that is the RESOLVE of the self-training student.

_______________________________________

DELIBERATE PRACTICE - DO YOU ABSOLUTELY NEED A TRAINER?

Of course, cleverly designed software or video lessons would presumably allow the student to achieve 'little' successes which would add up to a substantial mastery or competence, each success reinforcing the self-trainer's resolve.

But now, this is where the balance shifts back to us humans: There is probably no way to completely 'virtualize' a live, knowledgeable, COMMITTED teacher or coach, one who knows HOW to motivate a student when they go over the brink of giving up, one who can see where the student went off the rails and get him back on the track and succeeding.

But, [for guitarists - other instruments forthcoming] I've found THE NEXT BEST THINGS!  and here they are!

[DISCLAIMER: I am in no way "affiliated" with these particular sites mentioned here, and their respective products linked below.  I don't get and will not get any 'commission payments' from any sale of them.. Heck, I paid for my own copies!  BUT, these are fantastic and I want to share them.]

Firstly: a simple but very clever tool which will enable you to apply the principles of deliberate practice and also 'self-coach' effectively and maximise your practice time: GROOVEAMP [from their pages]

"This is the first training secret of the smart musician who wants fast and powerful results: If you you just play, play, play, but never record yourself and listen carefully, you lose at least 60% of the benefits of your practice.

Why?

Because you don't get sufficient feedback.

"As soon as you start to record and listen to yourself as part of your practice you will immediately experience dramatic improvements:

Defects that plagued your playing for years start to disappear - sometimes within days.
Mediocre-sounding, copycat playing suddenly starts to evolve. You start to develop a strong musical personality and identity.
Problems with keeping time decrease. Your sense of time becomes stronger and you can effortlessly follow and lead the music's "groove".
You also develop a new, deeper, real-time awareness of how you really sound while playing. This is another great musical asset that will make everything you do much more enjoyable."
---
Next: This is just about the greatest guitar scale trainer I've ever encountered.  It's very clever and takes a rather different approach than some you may have seen:

[from their pages:] -- "GSM is a multimedia software that teaches you, plays with you, trains and drills you with accelerated learning techniques, and takes you step by step from your current level (beginner, intermediate, or advanced) all the way to total mastery of scales, modes, and improvisation.
In fact the method is so revolutionary and effective that it only takes a few weeks before you actually develop the kind of skills most guitar players can only dream about."

Here's the link: http://www.guitarscalesmethod.com/
---
Here's another fantastic training tool for guitar - once you are well on your way to mastering scales and note relationships on guitar [from their pages:]
"It starts with knowledge...
The first thing you need is correct information. If you want to make significant progress then you simply must know all the important facts about guitar speed.
That's why the very first thing you will do with the Guitar Speed Trainer will be learning the fundamentals:

How speed picking

really

works.

The four picking strategies.

The three types of motion.

How to measure your speed.

Advantages and disadvantages of different approaches.

The "PP" secret for developing jaw-dropping speed.

The five worst training mistakes, and how to avoid them.

How to do the right exercise at the right time.

The "LRB" secret of super-coordination at high speed.
Here is the link: http://www.guitarspeed.com/
And here's a screenshot: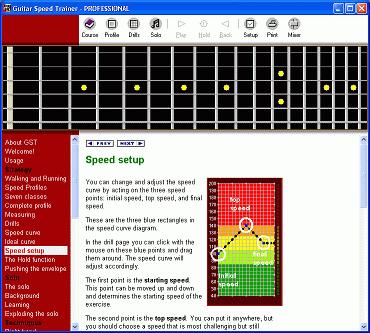 ---
I Hope you are enjoying this rundown of deliberate practice.
Now - I haven't forgotten you keyboardists or other instrumentalists and I have more goodies coming. Stay tuned!
---
DELIBERATE PRACTICE - PART ONE

DELIBERATE PRACTICE - PART TWO