More on: Deliberate Practice!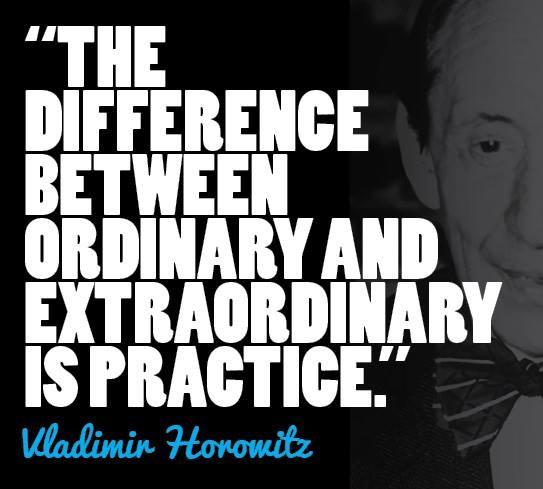 ---
Here's further data on the key elements of DELIBERATE PRACTICE: [from the "The Making of an Expert" - Harvard Business Review, 2007, and other sources]

"0"] CONCENTRATION - ON A SPECIFIC GOAL FOR THE PRACTICE SESSION, SOME ELEMENT WHICH IS NOT ALREADY MASTERED:
"When most people practice, they focus on the things they already know how to do. "DP" is different. It entails considerable, specific, and sustained efforts to do something you can't do well—or even at all.
"Research across domains shows that it is only by working at what you CANNOT do that you turn into the expert you want to become."
1] AN EFFECTIVE COACH, OR 'DRILL SERGEANT':
"The development of expertise requires coaches who are capable of giving constructive, even painful, feedback. Real experts are extremely motivated students who seek out such feedback.
"They're also skilled at understanding when and if a coach's advice doesn't work for them."
[There's also some great software which takes care of this "automatically" - for a guitarist:]
2] DIGGING INTO MISTAKES AND CORRECTING THEM IMMEDIATELY - also known as 'FEEDBACK':
"The elite performers we studied knew what they were doing right and concentrated on what they were doing wrong."

3] PRACTICING AT PEAK INTENSITY FOR SHORTER PERIODS OF TIME:
"Deliberative practice involves two kinds of learning: [1] improving the skills you already have and, [2] extending the reach and range of your skills.
The enormous concentration required to undertake these twin tasks limits the amount of time you can spend doing them."
4] KNOWING WHEN TO SET YOUR OWN GOALS AND "PLAY" WITH THE SKILL[S] YOU HAVE ACQUIRED:
"Like good parents who encourage their children to leave the nest, good coaches help their students learn how to rely on an "inner coach." Self-coaching can be done in any field."
---
Deliberate Practice - A Last Note:

Now, [4] above may seem like a contradiction, but think of it as a reward for the work you put in.
For example, there's nothing like the feeling of freedom in being able to improvise, as in Jazz.
But this can only be achieved AFTER one has gotten his various skills down, ice-cold.  And that is gotten ONLY by practicing "deliberately".

A lot of musicians, seeing their existing exercises deliver diminishing returns, develop their OWN new exercises.  These exercises can then become 'canon' for the musicians who follow and so the field is advanced.
---
Here are some applications which employ the principles of deliberate practice: [click this link]

---
DELIBERATE PRACTICE [DP] - PART ONE