MUSIC EDUCATION [bad]-
YES, IT CAN KILL YOU!

---
Wait - Bad Music Education -- It can KILL me?

Let me clarify:

"Kill".   As in: "Kill Your Interest", "Kill The Joy of Music." or even: "Kill Your Creative Spirit Altogether."
---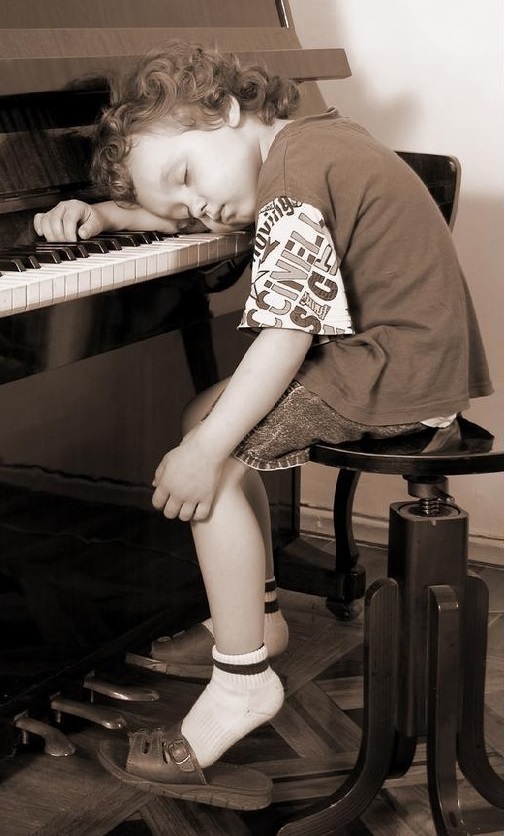 ---
BAD MUSIC EDUCATION - A WOLF IN SHEEP'S CLOTHING.
How does BAD music education happen?  Well, you've probably heard the saying: "Those who CAN, do. -- Those who CAN'T, teach."

While I admit that this is an oversimplification, when it comes to MUSIC, I'll bet you have experienced your share of, shall we say, "B. S." from "experts", "masters", teachers of all sorts.
False and useless info on music and music education abounds.. If you don't believe me - just look on YouTube!

OR - Just look at your OWN satisfaction as regards your musical skills and progress, or lack of it.

Whatever your style or genre - Are you still playing the same material as you were last year? two years ago? TEN years ago?

Now yes, it DOES seem an easy way out to "blame the teacher". But after all the sorting out on this, the FINAL authority on YOUR music is YOU.
YOU have a right to think!

So let me ask you: Was there a point where you honestly felt that you WERE 'cut out for this music thing'.. but somehow got lost?
Well - you can DEFINITELY 'get your "mojo" back'!!

If you want to get better, really really want to get better, you can do the actions below:

---
BAD MUSIC EDUCATION - HOW TO GET OUT OF THE TRAP.
1] Really, honestly take a look at your relationship with your teacher and/or the method[s] and the material[s] in use - After some time - Is the teacher still confusing you?  Does the material seem unrelated to any music which YOU are interested in and want to get good at and play?
[note: A lot of "systems" give you things to do which seem unrelated to the 'final product', and don't even BEGIN to sound musical, and yet are insisted upon with the "voice of authority" with threats of: "You are NOT, and will NEVER BE a musician if you don't do this."
But I've never found that nonsense to be true, with me or anyone else.
[Actually, when I look at the biographies of great musician after great musician, whether it was Frederick Chopin or Bela Fleck, I am struck by the consistent fact that they would create an entire method of study for themselves, whenever their mentors' methods ceased to provide any advancement.]

And sadly, there's also too much of THIS classic inane crap, known as: "SOME HAVE IT AND SOME DON'T" -- Seriously, if any "authority" tells you this, or has told you this - RUN FOR THE EXIT!!].

So with question number one, I would stand back and take a GOOD look, and ditch any of the above circumstances right away.. Don't regret all the time and money you spent on a "wild goose chase".  OK, so you learned what DOESN'T work.  Just drop it.  You'll be SO much happier!

BUT - You still want to do music, of course.. SO:

2] Put down your instrument and "look" at your relationship with music.  [These ideas are not necessarily "rote" nor some "system", but just suggestions to help you think about enjoying playing music, living with it.. etc.  Make up your own questions as you see fit - then answer them.  It may be a good idea to "journal" them - That's up to you, too.]

---
MUSIC EDUCATION - LET'S START WITH YOURSELF
Here are a few questions for you to use:

    1] DO I LOVE PLAYING MUSIC? - DO I LOVE IT MORE THAN ANYTHING ELSE?  [by the way - I don't necessarily think you MUST answer "YES!" to these questions to be a musician.  Again - we are all different.]

    2] WHAT DO I WANT TO COMMUNICATE THROUGH MUSIC?  WHY?  [You don't have to be a Songwriter to pose these to yourself]

    3] HOW MUCH TIME AND ENERGY AM I WILLING TO EXPEND IN ORDER TO GET TO A POINT WHERE I'M SATISFIED WITH MY MUSIC?  [now - this is where this site comes in - You'd be surprised at how rapidly and efficiently you could improve, IF YOU GET THE CORRECT INFORMATION ON HOW TO DO IT - AND THEN DO IT. [the material at the other end of the link is ONE answer - I will soon be featuring others - stay tuned!]

    And this very important one:
    4] AM I IN MUSIC TO MAKE A LIVING WITH IT?  If so - HOW DO I DO THAT?  [Here's some encouraging info:]

As far as "making a living",  I and everyone I know has long since ditched the "starving artist model".
Consider this: In ALL of the great works of any era, media, or genre which we know about and enjoy - THE CREATOR GOT PAID for his work!
From the Sistine Chapel Ceiling to "GRANDMA GOT RUN OVER BY A REINDEER".. The creator got recompensed...
I'm sure even the painters who put up those scenes of hunting in the Caves at Lasceaux got an extra share of venison as a reward when the hunt was successful: [see below]


So, please tell that to any bozo who says: "Great art should always be free."

Or - Tell them this: "Great kitchen appliances should always be free".. or this: "Great insurance policies should always be free."  Makes just as much sense. Right?
---
[another note: ALL of the questions above, and more, will be expanded upon, with GOOD info and solutions, in the coming weeks.]
---
BAD MUSIC EDUCATION AND IT'S EFFECT ON OUR CULTURE:
Now, I have neither time nor interest in making 'value judgements' about WHICH art was 'more deserving' or 'less deserving'..  That's a "rabbit hole" from which no one ever came out!

Of course - It's necessary and useful to study what came before in order to discover what "works" and not "reinvent the wheel."
But - like a fledgling bird - you have to flap your wings and leave the nest sometime.

Anyway -- Let's get to work - You have questions?  I have answers!

---
Firstly, let's go to the home page and check out the topics!
Let's find out the BEST way to increase the physical ability of your hands themselves -- [hint - it's also a GREAT warm up.]
Finally!  The "Real Deal" on How to Approach - PRACTICE

Give me some feedback, too!