HAND STRENGTHENING EXERCISES?
YES!  Because: "hours of scales"
are NOT enough, [by themselves]!
---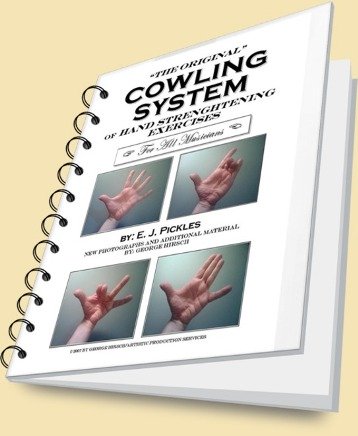 ---
THE COWLING SYSTEM© OF HAND STRENGTHENING EXERCISES,
A BRIEF PERSONAL HISTORY:

I first encountered THE COWLING SYSTEM© through an ad in a musicians' magazine, which promised that by using it, a musician's technique, power and speed would increase significantly.
I was intrigued. So I purchased the materials, did the exercises and, in fact, did get the exact result which the System promised!
Now - WHY did these exercises work so well?  Why so "deadly effective" in fact?  How could a mere FEW SECONDS each of full contraction of the fingers in certain positions produce nearly "explosive" strength and dexterity and velocity increases??

Well, there are several principles at work here - and it's fascinating that the "isometric" aspect of physical exercise is brilliantly employed in "The Cowling System" - about a CENTURY before this principle even had a name!
Here's some data on isometric exercise I discovered:
--------------------------------------

"One of the main benefits of isometric training is that the body is able to activate nearly all the available motor units - something that is usually very difficult to do.
"Back in the 1950s, researchers Hettinger and Muller found a single daily effort of two-thirds of a person's maximum effort exerted for six seconds at a time for ten weeks increased strength about 5% per week, while Clark and associates demonstrated static strength continued to increase even after the conclusion of a five-week program of isometric exercises."
[~ from: "breakingmuscle.com]

--------------------------------------
Yes - it IS real science! See this page for more references.
Personally, using the Cowling System of hand strengthening exercises, I felt a good deal more progress in my musical ability than just "5% per week".
But even that is nothing to look down on when you add up the eleven or so weeks for the whole program - I'd take it!

Well -- Much later on, seeing that my original materials needed to be replaced, I searched all everywhere for any current publications of this work, and I ultimately discovered that the Cowling Institute and the Cowling System were no longer in existence!
This seemed a mystery to me, as I and many others had obtained excellent, even remarkable, results with it.
So, in further research, I found that this system originally appeared in the early 1900's, as a full page ad for the Cowling System in a musicians' magazine in December of 1914, complete with glowing testimonials, shows.
I never found anything additional to this [except for the rave reviews of The System which have appeared over the last few years here and there, on various internet postings from musicians]
So, I then proceed to restore my only copy of these fading materials to their former glory and beyond.
The original photographs of the hand positions for every step of each exercise have been painstakingly re-shot. The original [typewritten] text has been thoroughly proofread and re-typeset. [Though the instructions for the exercises are explicit and understandable, the prose style is a bit archaic in some few places. Therefore where a need was felt for editorial comment or explanation, these were set in a different font, so as to differentiate them from the original author's text.]
I still employ these hand strengthening exercises to very beneficial effect, and so do many others. I trust that they will do the same for you.
---
Here's further data and background on "THE ORIGINAL" COWLING SYSTEM©:
Basics of the Cowling System: Playing an instrument is an ATHLETIC activity.
What is the RIGHT type of hand strengthening exercises for the musician?  The WRONG type COULD damage your hands!

Can the MIND influence PHYSICAL exercise? - YES!

At what point does technique and the instrument "disappear"?  The Cowling System can help get you to that point.
---
For the digital version of "THE ORIGINAL" COWLING SYSTEM © of hand strengthening exercises, with FULL COLOR photos, for the reduced price of $22.50 - just click below.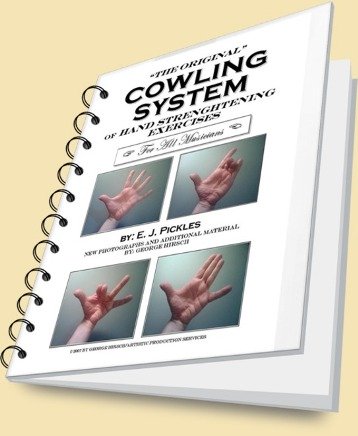 ---
[Now that you know what to do to strengthen your hands, here's info on how to make the best use of them through "DELIBERATE PRACTICE"!]

---