Heuristics??  What are they?
And, Can They Help You Learn Music?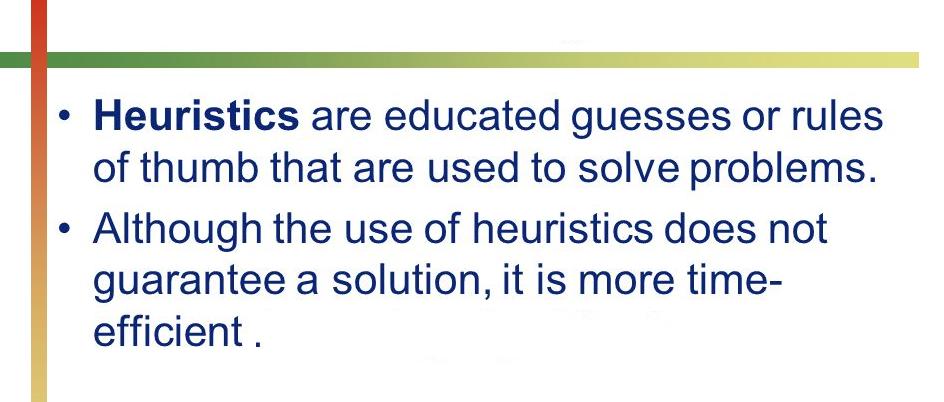 How "HEURISTICS" Can Really Open Up ANY Music For You:
I am a self-taught musician.
And "HEURISTICS" are what enabled me to learn music - before I even knew what they were!
They are actually the "natural" way we ALL think.
Here's is some background on this:

When non-musicians hear me play, they often remark on how "impossible" it was for them to learn music from a teacher - much less work out for oneself how to play and then get up to a decent skill level.
Please understand that I'm not putting myself up on the level of, say, a Mozart.

But I really never saw the lack of a music teacher as a difficulty.  Sure, things would show up that I "couldn't work out".  So I would watch and listen to other musicians and ask them to show me how they did this or that.

But, ultimately I have relied on my own ears, fingers and mind to advance my own musicianship.

So... I was thinking about music, and how I learned it.  Here are my observations:

[Besides observe other musicians], one of the things I did and still do, is break down the particular thing I wanted to master into the smallest "chunks" possible, and then "burn those in" [practice repeatedly] separately, then put the "chunks" together into a comprehensive skill.

Another thing I did was to recognize where a particular skill on a totally DIFFERENT instrument could be applicable to MY instruments - keys and guitar, and "adapt" it - turn it into an excercise and then use THAT to create a NEW skill, on a DIFFERENT instrument!

Here's what I mean:

I am a guitarist, keyboardist and singer primarily - I have ZERO real experience with DRUMS or PERCUSSION..  But, one night, when I was away at college, I was hanging out with this drummer.  He was doing exercises on his practice pad..

He showed me what they were all about: They imparted an ability to play any particular rhythm pattern in the right hand, while playing a DIFFERENT but related one in the left hand - [or the left and right legs.]

These are patterns are known as "POLYRHYTHMS".  And the ability to play them is termed "COORDINATED INDEPENDENCE".  [He was doing exercises from THIS book: ADVANCED TECHNIQUES FOR THE MODERN DRUMMER - COORDINATED INDEPENDENCE] (note: I'm not getting any commission on this referral.)
"Hey. You try it." He offered.

So we started slowly, as I copied his actions - then we began to accelerate [which drummers are prone to do anyway :) ]

Lo and behold - I WAS PLAYING POLYRHYTHMICALLY!!!  My LEFT hand was laying down a "regular" beat/pulse, while my RIGHT hand was 'improvising' freely against that beat.

[When you hear a jazz drummer keeping that high hat going with a regular pattern as he solos with changing patterns and rhythm in his other hand and his kick drum foot - THAT'S "coordinated independence".]

So, at least in a rudimentary way - I achieved "COORDINATED INDEPENDENCE".

But then came the "AHA"!  If these exercises work for for TWO HANDS, can they work the same way between the THUMB and TWO FINGERS?? - The answer was "of course".

And so I worked out a set of exercises for myself which impart the skill of the technique known as "Travis Picking", or "Three-Finger-Picking. [here is an example:]

---
---
What I did was: I 'deconstructed' three-finger-picking in the same way a drummer deconstructs polyrhythms!

And, here's something amazing -- Within a day, I was executing complex 3-finger-picking patterns as well as some I'd seen who had to practice for a LONG time - months, even years!..

No, I do NOT assert that I am a "Mozart".. But, as I said above, these are certain ways of thinking which we ALL naturally use; 
These "strategies" it possible for "impossible" problems to be solved relatively easily.

They are known as "HEURISTICS".  And heuristics CAN and DO apply to LEARNING MUSIC.
[More on 'MUSICAL HEURISTICS' -- It will really give you TONS of new musical ideas! -- and can put you ahead substantially.]
---
Coordinated Independence for DRUMMERS: