SELLING MUSIC ON THE INTERNET:
-- EVEN MORE ABOUT: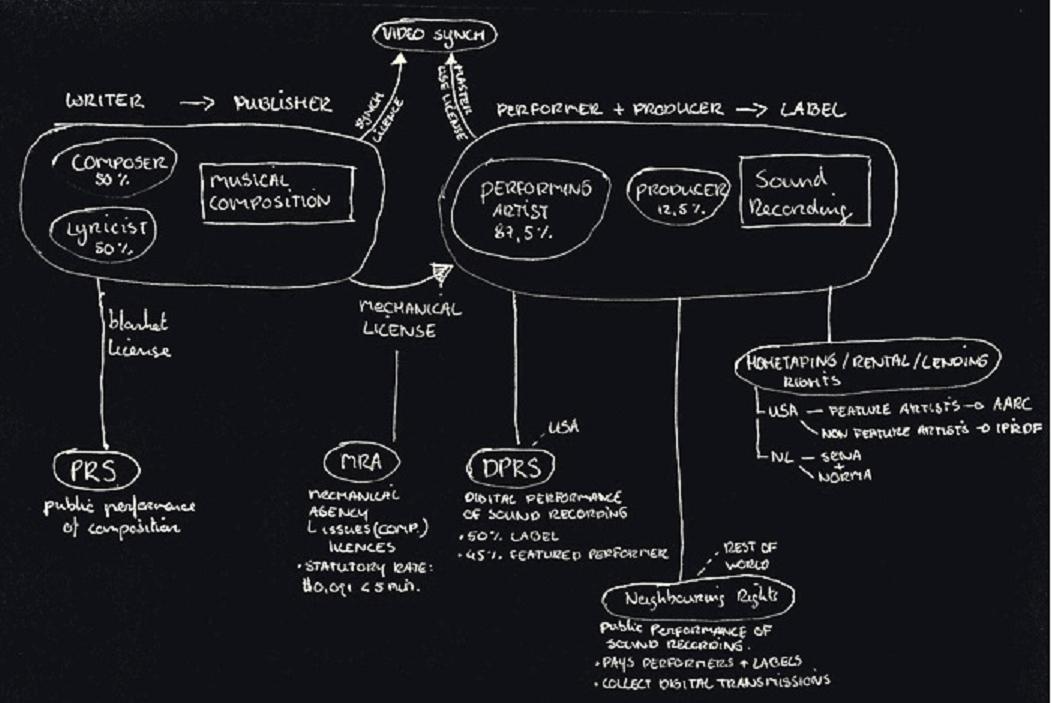 Above: a "selling music on the internet" flow chart - Simplified :)

---
In my researching of "selling music on the internet/online", one thing has led to another!

Introducing the concept of "aggregators" - third parties, or "middlemen", who are quite willing to do the annoying clerical and technical work for you.

Here's a definition:

"A content aggregator is an individual or organization that gathers Web content (and/or sometimes applications) from different online sources for reuse or resale.
"There are two kinds of content aggregators: (1) those who simply gather material from various sources for their Web sites, and (2) those who gather and distribute content to suit their customer's needs."
The SECOND type: "gather and distribute", are the one WE are interested in.  And these sites are coming into being almost monthly!
From MONDOTUNES, an "aggregator" website: [We'll check out Mondotunes a bit later on.]

"Today's musicians and artists experience unique conditions where the entire web is available for creating buzz and generating global exposure. You do not have to be signed to traditional record deals by major labels to benefit from prominent resources."

Here's a look inside of one these aggregators - LOUDR:

I already LIKE these people a LOT, don't you?  Well, I'll see how I do with them when I upload some of my work.  Here's their info video:

Cute, hm?  Like I said: I get a 'good feeling' from them.  OK. let's move on:

---
SELLING MUSIC ON THE INTERNET: "Non-Exclusivity"
Since there are so many of these, and they seem so similar, how can you tell the good aggregators from the not-so-good?  Their functions and features seem very similar at first glance.
But, there's a "saving grace" and a benefit about these "aggregators.  And the benefit is this: NON-EXCLUSIVITY.
"Non-exclusivity" means that you can place perhaps a slightly different version of the SAME song, IN A DIFFERENT VERSION EACH on as many of these aggregators as you want. Say, the "STUDIO VERSION" ON one, the "LIVE VERSION" on another, the "ACOUSTIC VERSION" on yet another, titled as such.
Then see which versions on which platforms perform the best.  Then "weed out" the lesser performers.
The point here is to ensure that the DIFFERENT aggregators don't try to place the SAME song on the SAME platform! [iTunes, Rhapsody what-have-you.]  Hope that makes sense.

NOTE: This is just my personal advice, accompanied by some statements by others involved in selling music on the internet.
So, I have heard of this being done in various ways.
But, like I said, I'm your guinea pig.  If I get fried, YOU will be the first to know! :)

Case in point: INSTANT MUSIC LICENSING  You may want really dig into this, as they appear to have access to the European market in a way US-based services do not. 
Therefore no GEOGRAPHIC conflict, I would imagine.

Here is their video: [note - the beginning is an explanation of how this works on the "customer" side - at about 2:12, the material relevant to YOU begins:]

Easy to upload your tracks, BUT, the trade-off is that Instant Licensing has a HUGE catalog!  So, ensuring that you get noticed may be tricky.
But again, in that they can afford to offer free services - you pay little or nothing -- there's not really that much of a downside to leaving your music there, in my opinion.

---
Alright, as promised: MONDOTUNES:

---
And yet another: SONGCAST:

---
My God!  STILL another: DISTROKID:

---
As this field is really big, and getting bigger all the time, I'm still in the process of discovering and collecting info on it.  This research could be a full-time job, and IS, for some people.

So, we're STILL NOT done yet!  I just don't want to make this page nine-feet long!

We have more ways of selling music on the internet coming.  Stay tuned!

---
"SELLING MUSIC ON THE INTERNET" - PAGE ONE:
"SELLING MUSIC ON THE INTERNET" - PAGE TWO: