Heuristics -
More About:


How Can They Help You Learn Music?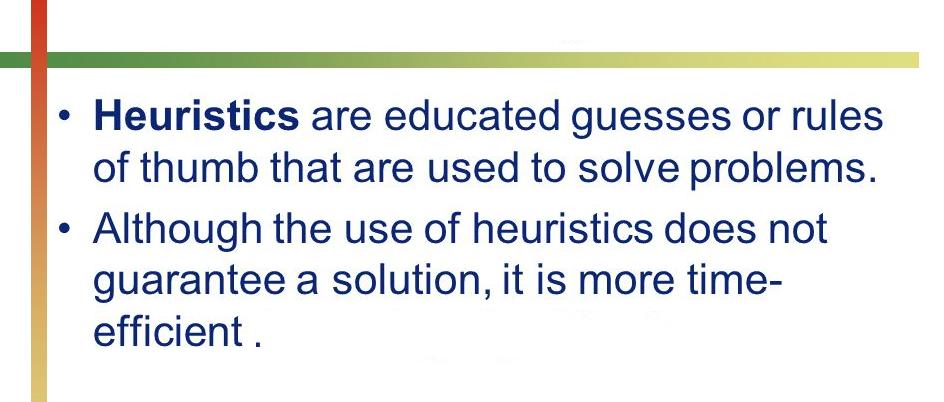 "MUSICAL HEURISTICS": How To Solve ANY Problem In Learning Music!
"HEURISTIC" or "HEURISTICS" from the Greek: "to find out"

So, what does that mean as regards MUSIC?

You may have heard this word before and thought it had something to do with computers.  Well yes, it does, but it actually has a few simpler definitions which can be understood and applied by anyone [especially MUSICIANS - we'll take that up shortly].

The simplest example of this is well known as: a "RULE OF THUMB".  And here are a few definitions of that term;
   
  [1] "a broadly accurate guide or principle, based on experience or practice rather than theory."

  [2] "a method of procedure based on experience and common sense"

 [3] "A rule of thumb is a principle with broad application that is not intended to be strictly accurate or reliable for every situation. It is an easily learned and easily applied procedure for approximately calculating or recalling some value, or for making some determination."

The term is thought to have originated with carpenters, centuries ago, who used the length of the tip of their thumbs (i.e., inches) rather than rulers for measuring things - "rough", yet reliable and convenient - [as long as YOU were the ONLY one measuring things!]

OK, other examples of "rules of thumb" - in life generally.

"A good rule of thumb is to use less than 10% of the credit that's available to you." [from: 'The Takeaway']

"The ice on the lake should be at least two inches thick to support one person."

So, simple rules of thumb which can be applied easily and quickly to get a useful answer.. Remember, it's a USEFUL answer, one which will satisfactorily handle a problem or situation - not the ultimate, perfect answer.

In the real world, you may not have RESOURCES or TIME to obtain a "perfect", "ultimate" answer.  So heuristics are valuable!

"Heuristics" also find their way into the language in the form of sayings or proverbs:

    * "YOU DON'T HAVE TO EAT THE ENTIRE EGG TO KNOW IT'S BAD."

    * [from China] "IT DOESN'T MATTER IF THE CAT IS BLACK OR WHITE, AS LONG AS IT CATCHES MICE."

    * "80% OF YOUR PROBLEMS COME FROM 20% OF YOUR CUSTOMERS." [this is the old "80-20 Rule"]
I suppose I could do a whole project to find out where this "rule" came from, and is it actually '79-21'?
BUT, if I had a retail business, I could just go ahead and use it to get certain customers ["cranks" or "pests"] handled quickly and "off my plate", so as to tend to my VALUED customers.  See how that goes?

That's "HEURISTICS".

[Now if we consider that we don't have the time or resources to duplicate the work of a ton of scholars who only got as far as "a heuristic is a rule of thumb" and leave it at that, well, it still doesn't affect what a "rule of thumb" IS, or is used for.
So we can quit that activity, and go on to more productive pursuits!

Now - there are other very important heuristics which bear mentioning:

Another of these we all know as: "trial and error".
That approach can be used in everything from matching nuts and bolts to finding the answer to complex math problems.

How does this apply to MUSIC?  Read on...

This way of problem-solving was very well laid out in 1945 by a mathematician by the name of G. POLYA in his breakthrough book "HOW TO SOLVE IT", which has been a bestseller for decades.

Though this book primarily concerns itself with math - the general principles laid out in this book can be used by anyone to solve problems in any area - ESPECIALLY music!

Here are some of his principles:

==============================================

    * If you are having difficulty understanding a problem, try drawing a picture.

    * If you can't find a solution, try assuming that you have a solution and seeing what you can derive from that ("working backward").

    * If the problem is abstract, try examining a concrete example.

    * Try solving a more general problem first.

The above 'strategies' are given examples in his book.

But here is MY favorite one - which I didn't even know WAS a heuristic until I found out about it long afterwards!

    "DO YOU KNOW OF A RELATED PROBLEM?"

=========================================================

From Mr. Polya:

    "We can scarcely imagine a problem absolutely new, unlike and unrelated to any formerly solved problem; but if such a problem could exist, it would be [unsolvable].
"In fact, when solving a problem, we always profit from previously solved problems, using their result or their methods, or the experience we acquired solving them.
"And of course, the problems from which we profit must be in some way related to our present problem.

    "Hence the question: DO YOU KNOW OF A RELATED PROBLEM?"
===================================================

Here's why the above is my FAVORITE heuristic, and how and why I apply it to MUSIC, with excellent success:

Let's return to my experience with my drummer friend:

I have basically ZERO real experience with DRUMS or PERCUSSION..  I observed a drummer doing exercises on his practice pad..

He showed me what they were all about: They imparted an ability to play any particular rhythm pattern in the right hand, while playing a DIFFERENT but related one in the left hand - or the left and right legs.

---
[The drummer's nightmare: Inability to free the hands to play independently of each other:]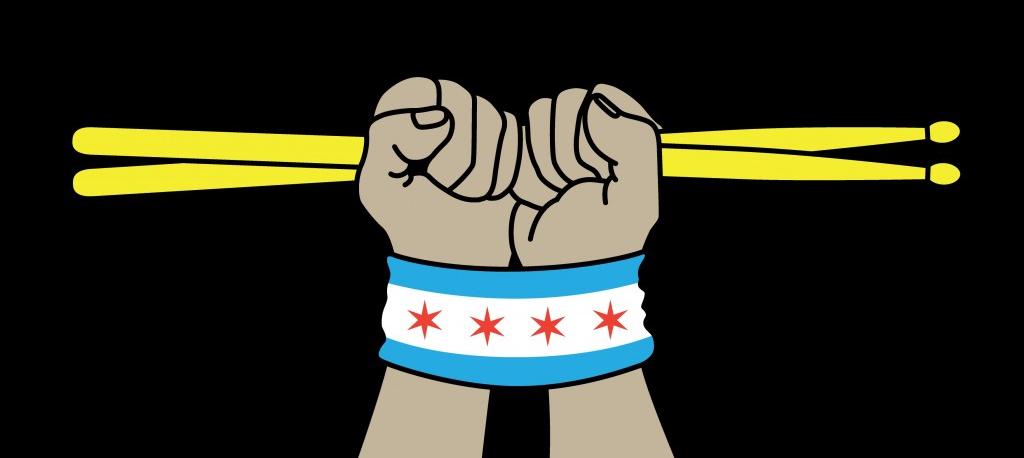 ---
These are patterns are known as "POLYRHYTHMS".  And the ability to play them is termed "COORDINATED INDEPENDENCE".

"Hey. You try it." He offered.

So we started slowly, as I copied his actions - then we began to accelerate.

Lo and behold - I WAS PLAYING POLYRHYTHMICALLY!!!  My LEFT hand was laying down a "regular" beat/pulse, while my RIGHT hand was 'improvising' freely against that beat.

[When you hear a jazz drummer keeping that high hat going with a regular pattern as he solos with changing patterns and rhythm in his other hand and his kick drum foot - THAT'S "coordinated independence".]

So, at least in a rudimentary way - I achieved "COORDINATED INDEPENDENCE".

Within a day, I was executing complex 3-finger-picking patterns as well as some I'd seen who had to practice for a LONG time - months, even years!..

That's the POWER of thinking "heuristically" - These "mental shortcuts" REALLY help you use your intelligence well, and FAST.

Of course - What happened was that I employed a 'heuristic' long before I ever heard of the term! -- the one which states: "when solving a problem, we always profit from previously solved problems, using their result or their methods."

But that actually demonstrates how "natural" to all our thinking "heuristics" really are.
So, you can basically "make yourself smarter" by understanding and using them!  They seem to be "self-reinforcing".

Now - About those exercises - FOR GUITAR.  If you're a flatpicker, stymied by true three-finger, or independent fingerpicking, and envious of those guitarists who can execute this - envy no longer!

I am publishing a book, with videos, which breaks it down.  It's in the works and coming out soon!

YOU can do this!!  And I'll help you.

Let's play!
=========================================

[note: Pay attention to Merle Travis' RELENTLESS right thumb, [below] and you'll see what I'm talking about.
Yes, YOU can learn and DO this without tears!
Contact me in advance - I'll give you a preview!

---
Back to "HEURISTICS" - introduction:

Coordinated Independence for DRUMMERS: